Look No Further If You Need Some Richmond Upholstery Cleaning TW9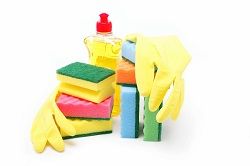 If your upholstery is in regular use, you may find it quickly becomes stained and shabby, losing the freshness and vibrancy it has when you first purchased it. Cleaners Richmond's Richmond upholstery cleaning service is specifically designed to bring those worn pieces of furniture to life. Our expertly trained team have the skills, equipment and experience to restore almost any armchair or three-piece suite back to its former glory, leaving those funny smells and dirty stains as an unpleasant memory. We can professionally clean furniture of any shape, size, style or ago, so why not call 020 3743 9117 today to get your free quote.
Every piece of furniture is different, we know this. Therefore we tailor a cleaning solution to suit. The process can be a lengthy one, but in the end it will be worth it.
Learn More About the Typical TW9 Upholstery Cleaning Process
Vacuum
The starting point is to pull out any excess dust and dirt from the fibres of your upholstery with an industrial grade vacuum. This vacuum is specifically designed for the purpose of TW9 cleaning upholstery, and will be much more effective that you domestic version.
Pre-spray
After the vacuum has been completed we will treat the fabric with a pre-spray, a mixture of environmentally friendly chemicals (different depending on the fabric) designed to dissolve and break down any surface stains without soaking into the stuffing, which may damage the item in question.
If there are any heavy stains that do not respond to spray treatment these will be treated by hand.
Light extraction
An extractor is then passed over the sprayed furniture to remove all dirt and grime from within the fabric. This extraction should also remove most moisture, leaving your upholstery clean and dry in no time at all. It should be said that some delicate fabrics do not respond well to moisture treatment, and in this case 'dry' solvent cleaning may be more appropriate. Our cleaning expert will always discuss the best options with you, and test an area of the item before proceeding to clean the whole thing, giving you peace of mind that the job being carried out is one of quality.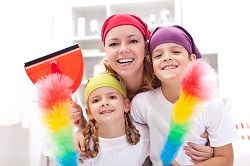 Finishing
We can sanitise, deodorise and condition your upholstery for full effect, and also apply a special stain guard to protect against future accidents. These services are specifically designed to increase the lift of your furniture. We know our chairs and sofas often take a lot of punishment from our children and pets, and even our glasses of wine when we aren't feeling too careful. We recommend these finishing services to make sure tough stains don't set in as easily in future.
Affordable Furniture Cleaning Services in Richmond
Here at Cleaners Richmond we consider ourselves Richmond cleaning experts. So do our many happy customers, whose upholstery we have brought back to life. It you need a little TW10 furniture cleaning call us on 020 3743 9117 to see just how affordable our service is. Quality at a good price.
As Richmond's premier Richmond upholstery cleaning company, we are ready to handle any piece of furniture no matter the size, shape or fabric. We understand everything there is to understand about furniture cleaning TW9, so rest assured your favourite sofa will be in good hands.
If your three piece suite is looking a bit tired or the dog has left its mark on the armchair, why not call 020 3743 9117 today for your free quote. Those as new pieces of furniture could bring your room back to life.
Save
Save