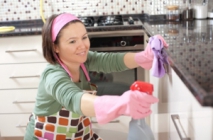 Is It Important To Steam Clean A Rented Home When Moving Out?
03 February 2014
What is it?
Steam cleaning is great method to use when a thorough clean of a home is required, any conventional method of cleaning is effective however other methods so require a range of detergents that I specifically designed to tackle the area of need.
Moving out requirements!
When moving out of rented accommodation it is generally a requirement of the tenant to ensure that the property is considerably clean and tidy, similar to what it were when you moved in, but usually landlords will allow for general wear and tear, especially if you have lived at the property for a particularly long time.
Why opt for steam cleaning over conventional methods?
Steam cleaning is an effective way to spring clean a property ensuring that is exceptionally clean.
You can tackle most areas with a steam cleaner and will not need to stock up on an array of different products such as window cleaners, tile and floor cleaners, carpet and upholstery cleaners etc
Steam cleaners not only clean really well, they also kill viruses, allergens and bacteria as well as eliminate dust mite which can cause health problems for many people who are particularly sensitive or who have asthma.
They have been known to work faster and quicker at removing stubborn marks or grime that has stood for quite some time, and without the need for exhausting scrubbing.
Unlike conventional cleaning methods, steam cleaning leaves less moisture on the area, so the drying time is much quicker.
Are they expensive?
If you take into consideration the amount of money you will spend on cleaning products throughout the year, with steam cleaners you only make that one off purchase so although that may seem quite pricey, it would save you money in the long run.
Should I buy a Steam cleaner or hire the experts to come in?
If you think that it would be beneficial for you and that you are likely to use a steam cleaner often, then it's probably best to own one.
If you think that it won't be used often (maybe just every now and again) then it may be better to hire domestic household cleaners instead, Cleaning contractors usually use steam cleaning equipment to clean homes as it's quick, efficient and very effective. Steamers usually work wonders on grubby sofas, dirty carpets and they are also good for making tiles shiny and new like and bringing some sparkle back to a bathroom suite.
When leaving rented accommodation that is in need of a spring clean prior to handing the keys back, hiring a cleaning agency to give the property a thorough clean is usually enough to guarantee a return on your deposit, provided that the home is intact and with nothing left broken.
Conclusion
Steam cleaners have their uses, they are very effective at tackling the job in hand, they are make for light work when comparing the amount of scrubbing required to match the result of what the steam cleaner has to offer.
Some people will find owning a steam cleaner to be very worthwhile, whereas others may attempt it once and then its stored in the cupboard and the go back to conventional methods instead, this is usually due to the fact that people can be bothered to get it out, fill it up and wait for the steam to appear. Some people prefer to just grab a rag and spray bottle instead. If you are considering buying a steam cleaner, its probably best to be sure that it is going to be used, and that you are determined to use it often otherwise you may feel as though it was pointless buy.