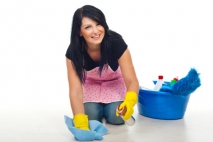 How To Deep Clean A Whole House
13 March 2014
Deep cleaning a whole house is not something you can do likely. Depending on the size of the property and how well maintained it is, you can complete this task in a day or it may take a week.
Not everybody has the time to do a deep clean at home however we must all try to do it occasionally because it helps to maintain a home's appearance and helps to keep it in tip top form. If certain areas of our homes are never addressed we could be faced with much bigger problems and this could end up costing a fortune to put right. For example if you never clean away areas of damp, it can affect the interior walls to the property, overtime, and may end up being a very expensive job to put right. Also with other situations such as the accumulation of grease, grime and dust, if it's never addressed it may mean that you need to redecorate the room to tackle the problem which is going to be more costly and time consuming.
House deep cleans are often advised to be done at least every 6 months or maybe yearly for those who do regularly clean on a daily basis. You may wish to hire in domestic cleaners who do an excellent job at this if time is difficult to find. Cleaning agencies are very worthwhile to anybody who has a busy lifestyle and schedule; some people hire them weekly whereas others only hire them occasionally for a thorough deep clean. Hiring occasionally is the cost effective way to achieve remarkable results whilst managing to maintain the cleanliness of your home.
For those who wish to deep clean their own homes without help, here is a simple guide to help you along the way!
1. Start at the top of the house and work your way down, that way you're not dragging dirt around the home and you do not have to disturb the rooms which you've done.
2. Deep cleaning is hard work, its requires moving furniture around to get to those hard to reach places, you may require help to do this and it if you find it difficult, try to concentrate on a room a day rather than a whole house in one day.
3. Dust and clean the room first, then do the window and leave the floors until last.
4. Bathrooms will half clean themselves, so why not spray on the cleaning solution whilst you tackle another room and then come back to it later, to rinse off the excess.
5. Kitchens are usually the hardest room to accomplish and for a more effective result its probably better to spend a whole day on this room alone (baring in mind it requires walls, cupboards, flooring and appliances and the oven in particularly is a difficult job alone!)
6. Steam cleaning offers an eco-friendly cleaning solution as it does not use any chemicals or detergents and it can be used for many different rooms and lots of things around the home including curtains and carpets. It's cost effective in the long run.
7. Allow each room to dry before you enter so that your hard work is not ruined. It may be better to do a deep clean during the summertime so that the drying time is reduced and try to choose a day when there are less people in the property.
Tip/if you wish to attempt the deep clean and come across some problem areas along the way, do not worry as you could hire professional help to tackle those solutions and cut down on the cost of hiring for full house deep clean.
You may also like